If you've recently purchased or are considering getting a ferret, feeding them is an important question you'll be asking. Ferret pellets are vital to their diet, but are there other things ferrets should have? What if you run out of kibble and can't make it to the store? Can ferrets eat cooked chicken, or should you have another backup?
Can Ferrets Eat Cooked Chicken?
Ferrets can eat cooked chicken as long as it is safely prepared and doesn't have things like spices or preservatives added to it. You'll need to cook the chicken yourself to ensure it doesn't contain harmful ingredients, and all bones should be removed so they don't cause choking.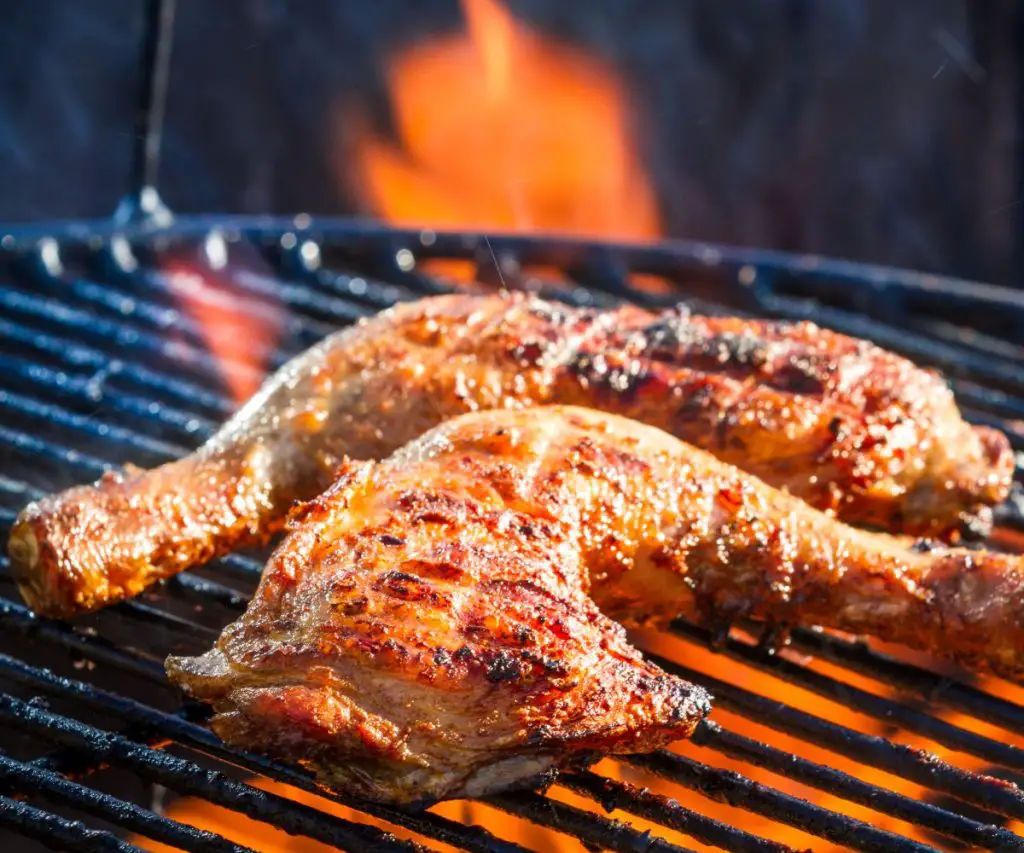 Is Cooked Chicken Safe for Ferrets?
Cooked chicken is quite safe for ferrets, as long as it's prepared properly. Chicken with added preservatives, salt, or spices can be dangerous for ferrets, but boiled or grilled chicken is just fine. Introducing cooked chicken into your ferret's diet can provide some diversity and make your pet healthier.
Is Cooked Chicken Good for Ferrets?
Chicken is lean meat with a lot of protein, so it matches a ferret's natural diet very well. In the wild, ferrets only eat animals smaller than them. Their digestive system was made to process protein, bones, and organs, and cooked chicken is a good substitute for domesticated ferrets.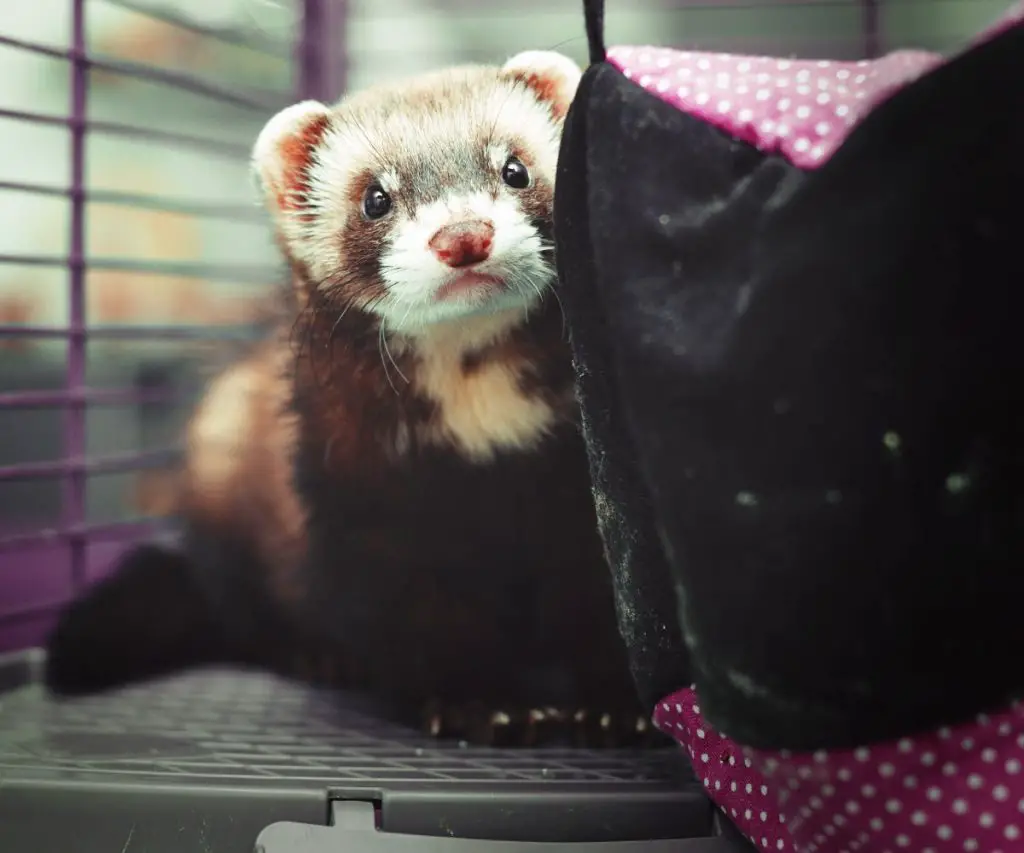 Is Cooked Chicken Bad for Ferrets?
The only way cooked chicken could be bad for ferrets is if you feed them too much chicken or do not supplement it with dried ferret kibbles. Unless you are keeping your ferret on an entirely whole prey diet, you should always supplement cooked meat with ferret kibbles. That way, your pet gets all the necessary nutrients.
Do Ferrets Like Cooked Chicken?
Ferrets naturally hunt small birds and mammals, so chicken tastes very similar to these. Ferrets enjoy eating cooked chicken, both as a full meal and as a treat. Cooked chicken can become a regular part of your ferret's diet.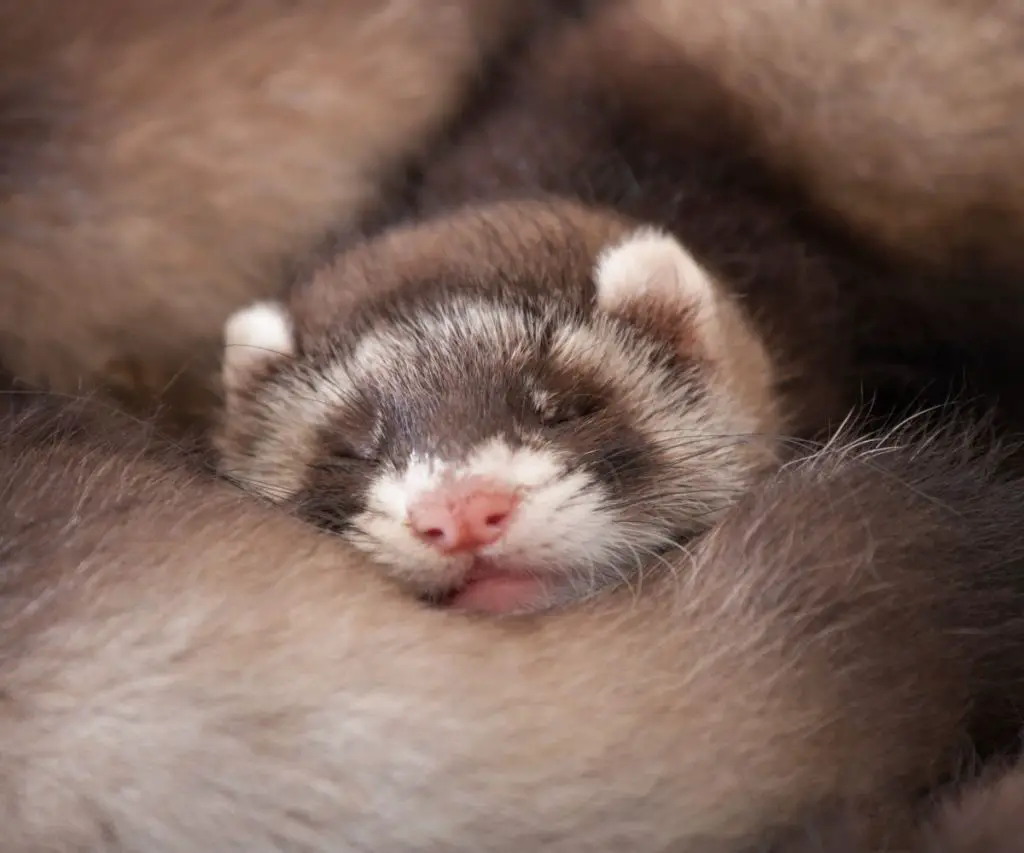 Can Baby Ferrets Eat Cooked Chicken?
Baby ferrets have a much more delicate digestive system than adult ferrets, and can't have a lot of the variety of food that adults consume. However, a little bit of cooked chicken in a baby ferret's diet can help them through times of indigestion or as they adjust to a new ferret food. Making water and chicken soup for a sick baby ferret can help them.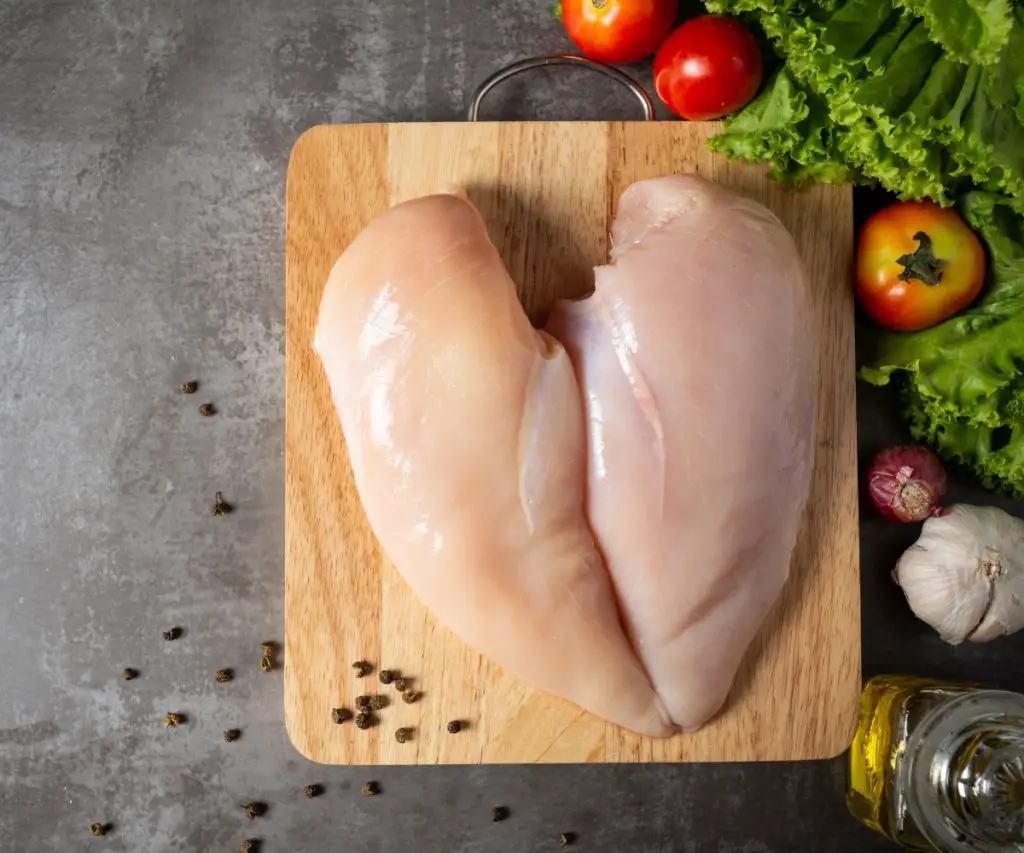 How to Prepare Cooked Chicken for Ferrets
The most common ways to prepare chicken for a ferret are grilling and boiling the chicken. Either way, make sure that there are no spices, oils, or salt. When you cook the chicken, cook it thoroughly to ensure that your ferret doesn't get food poisoning. Avoid pre-cooked chicken as it usually has added preservatives.
Once you've boiled or grilled the chicken, cut it into bite-sized pieces for your ferret. This step is especially important if you have a ferret that tends to scarf down its food instead of chewing. Feed the chicken to your ferret with its regular food or as a special treat during the day.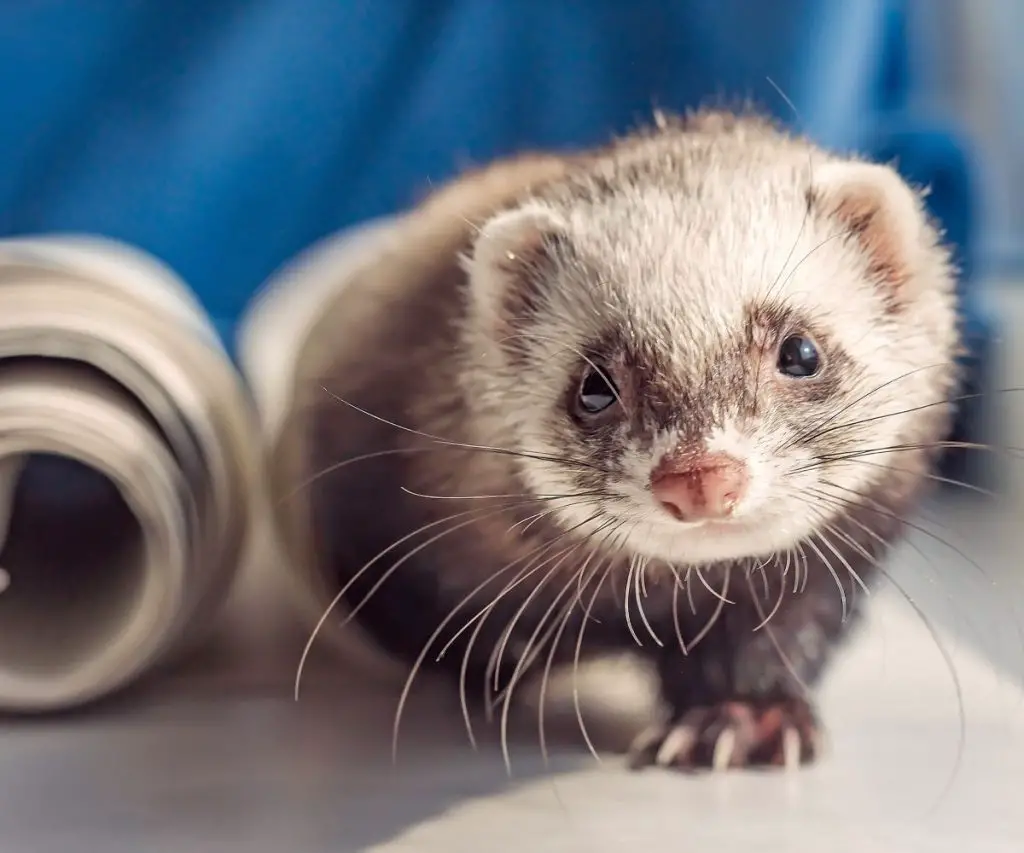 How Do You Introduce Cooked Chicken in the Ferret's Diet?
When you first introduce chicken into your ferret's diet, watch carefully for negative symptoms. Most ferrets will be just fine eating cooked chicken regularly, but it's essential to make sure that your ferret doesn't have an adverse reaction. Start with a small amount of chicken and watch for gastrointestinal distress or indigestion.
After a few days, you can increase the amount of chicken you've been feeding your ferret to the desired amount. Keep looking for negative signs, and if you still don't see any, continue feeding your ferret chicken as part of their regular diet.
Can Ferrets Eat Cooked Chicken Every Day?
Ferrets can eat cooked chicken every day, as long as it is supplemented with dry food or raw meat. Ferrets need the extra protein and nutrients that are incorporated into ferret food or whole prey. If you choose to use both kibbles and cooked chicken, make sure you have the correct ratio.
How Much Cooked Chicken Can Ferrets Have?
Ferrets can have cooked chicken every day, but they should have it more sparingly. Using chicken as a treat instead of a meal will probably make your ferret a healthier pet in the long run. Make sure you don't give your ferret any more than a full meal of chicken, and always ration meals according to the ferret's weight.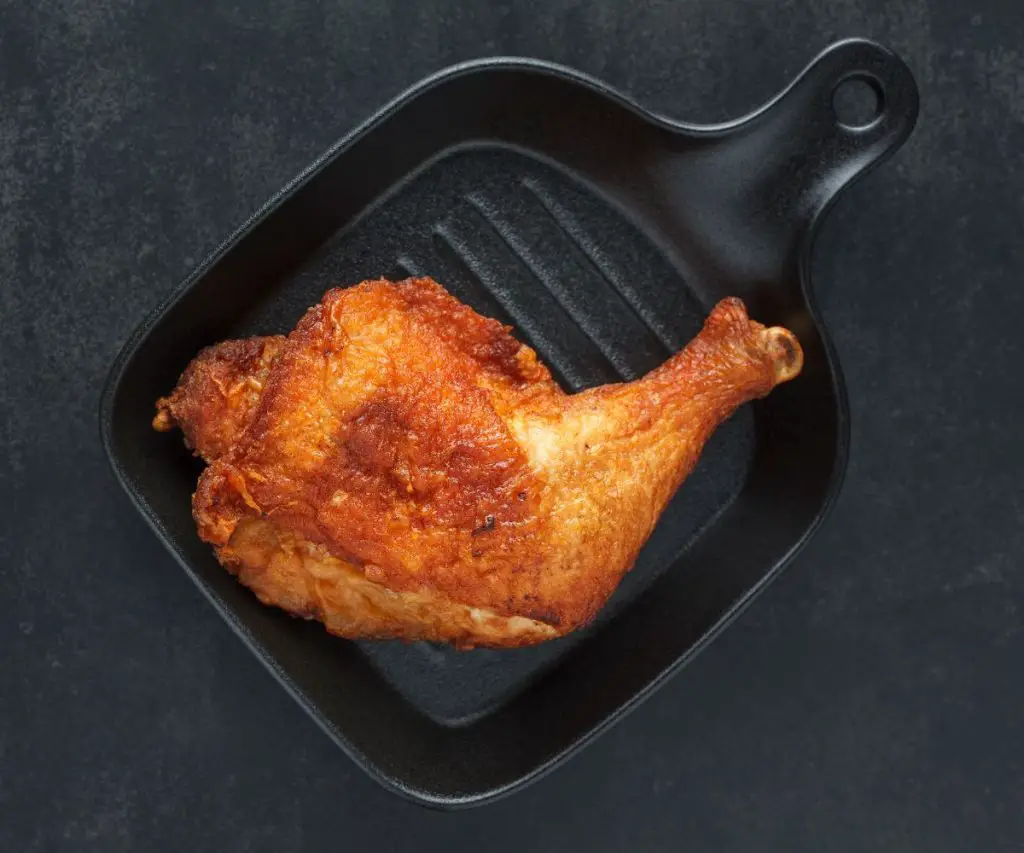 Can Ferrets Eat All Types of Cooked Chicken?
While cooked chicken is generally safe for ferrets to eat, there are several exceptions. Chicken cooked in seasoning, sauce, or oil is bad for ferrets because of the added spices and fats. Also, pre-cooked frozen chicken isn't good because of the preservatives used to maintain freshness.
When feeding your ferret chicken, it's vital to know what kind you have and how it was prepared. The best way to do this is to prepare it yourself. There are also specific parts of chickens that aren't as good for the ferrets to eat.
Can Ferrets Eat Cooked Chicken Bones?
In the wild, ferrets eat whole animals, including the bones. However, cooked bones splinter much more easily than raw bones. Chicken bones are also larger than the bones of a ferret's natural prey, so cooked chicken bones can cause a ferret to choke or bleed internally. If you want to recreate the experience of eating bones in the wild, try these ferret bone chew treats.
Can Ferrets Eat Cooked Chicken Wings?
Boiled chicken wings should be fine, but the danger of cooked chicken bones can make wings more trouble than they are worth. If chicken wings have seasoning or sauce on them, you should not feed them to your ferret at any time.
Can Ferrets Eat Cooked Fried Chicken?
Ferrets cannot eat fried chicken because of the breading and the oils used to fry the chicken. The added fats, carbohydrates, and starches make the fried chicken very dangerous to a ferret's digestive system.
Final Thoughts on Ferrets Eating Cooked Chicken
Cooked chicken is an excellent supplement to a ferret's diet because of the amount of protein and lean meat it provides. As long as you prepare the chicken well and make sure you are also giving your ferret enough dry food, you can keep your pet healthy and happy with a regular supply of cooked chicken.